Article: Interview with Swedish stylist Tina Rydergård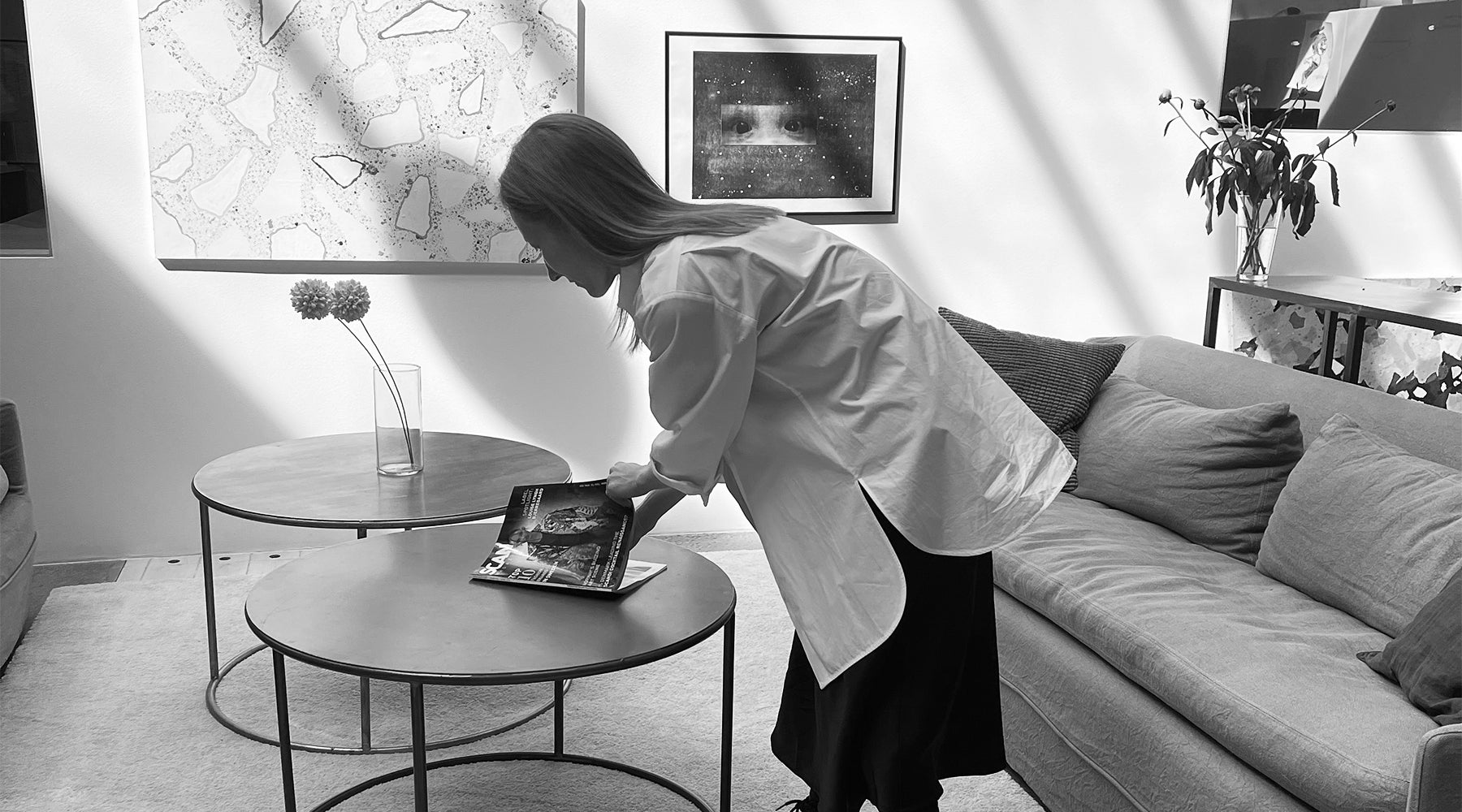 Interview with Swedish stylist Tina Rydergård
We interviewed Tina Rydergård, a Swedish Stylist, to hear some of her tips on fashion: how to create your capsule wardrobe and how to dress for special occasions.
– Hello Tina, I truly appreciate your agreeing to do this interview. Please introduce yourself to the readers.
– Hi, thank you for having me! My name is Tina, and I'm working as a fashion stylist and costumer, with my base in Stockholm.
– Tell me about yourself and your career so far, how did you become a fashion stylist?
– I've been interested in fashion and clothing for as long as I can remember. I would say my interest very much comes from my mom; she is the one who introduced me to the world of fashion. Ever since, I've always wanted more of it and to be a part of it myself somehow. I started my journey into fashion by studying fashion, art, and anthropology at Stockholm University, along with working as a dresser at the big theaters in Stockholm, such as Kulturhuset Stadsteatern and Dramaten. Later on, I had the opportunity to assist some of the big names in the industry, and after gaining more and more experience, I've now been working on my own for quite a few years. But I still assist sometimes, because who does not like to team up with people you love every now and then?
– You have Atelier Kajsa pieces in your wardrobe. What do you like the most about them?
– What I love about my Atelier Kajsa pieces is that they are always wearable, regardless of the situation or my own mood. They always feel right for any occasion.
– I'm attending a special event next month. What would you suggest I wear to make a stylish statement?
– How fun! Let's imagine an event during the Christmas holiday festivities, like Lucia or a mulled wine mingle – it's just so cozy! My go-to choice would be dressing in all off-white, such as these luxurious champagne-colored pieces from the Atelier Kajsa collection.
I would wear them as a set. If it's a little cold, I'd add a chunky knit, preferably in a dark brown color that I think pairs perfectly with the champagne set.
To complete the look, I'd pair the outfit with black tights and, if it's an indoor event at someone's house, some elegant house slippers. It's essential to bring slippers when you're invited to indoor gatherings during the autumn and winter period. It's much nicer than being left standing in your bare socks or tights.
– How can I accessorize my outfits to add a fashionable touch?
– I'd focus on ear jewelry; something long and sparkly can really give any look a festive feeling. A well-placed ring on one or several fingers is also a great choice. Necklaces can be a bit trickier and should be adapted according to the specific outfit.
– I want to create a capsule wardrobe. What essential pieces should I invest in to have a versatile and timeless collection?
–  I would say these items from Atelier Kajsa are an excellent way to start thinking about a capsule wardrobe:
– Are there any common style mistakes that I should be aware of and avoid?
– The most common 'fault' people make is looking at the size of a piece instead of trying it on. Sizing varies a lot, and you never know until you've tried something on. That's something I'm constantly nagging my clients about, saying, 'You really need to try this before saying anything!' Haha, and most of the time, I'm right. But it also applies to myself. I can coordinate outfits with a blink of an eye, but to know if it really fits, you need to try it on.
Regarding pieces that I would never wear myself or select for styling, it's something that feels dated and dull in the wrong way, I know it when I see it. But one piece I would never wear is nude tights and leggings with no foot; that's something that really hurts my eyes to see people wear.
– What are your top tips for maintaining and caring for my clothes to make them last longer?
– The main point is already very well stated by Vivienne Westwood: 'Buy Less, Choose Well, Make it Last.' With this philosophy in mind, when you make a purchase, it should be something that will last a long time due to its material, style, and perhaps even the brand. I strongly recommend that people learn more about materials and what will last, and what won't. For example, I never buy an item with 'acrylic' on the tag because I know it will deteriorate quickly when worn, and it can't be easily fixed due to the nature of the material. I always check tags before purchasing any item, and I encourage you to do the same.
– Can you provide stylist recommendations to Atelier Kajsa customers for three looks from our new collection? Office look, going out and vacation.
Office Look:
Wide Jersey Trousers in Black
Satin Top in Champagne
Going Out:
A-Line Midi Skirt in Champagne
Satin Top in Black
Vacation:
Satin Skirt in Black
Tencel T-Shirt in Black
– Thank you Tina for taking the time to share your expertise and experiences with us.
Interviewer: Natalia Protsiuk, Atelier Kajsa.
Interviewee: Tina Rydergård, Swedish Stylist.