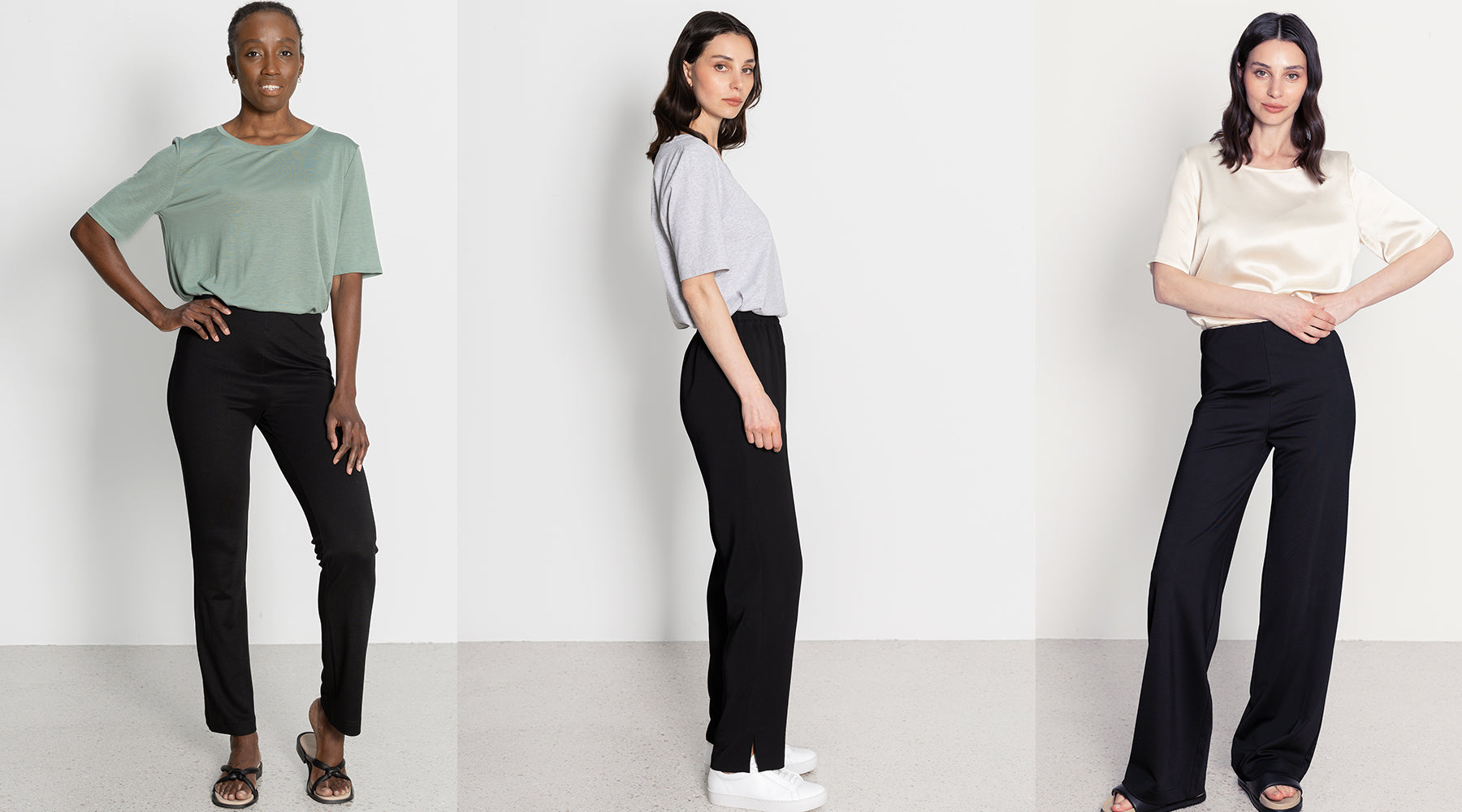 How to choose the Right Women's Pants: A Simple Guide
Finding the ideal pair of women's pants can sometimes feel like searching for a needle in a haystack. With so many styles, cuts, and fabrics to choose from, it's easy to become overwhelmed. Fear not! In this guide, we will walk you through the ins and outs of selecting the perfect pair of pants, covering wide-leg trousers, slacks, slim trousers, and straight-leg trousers. By the end of this journey, you'll be well-equipped to make informed choices and build a versatile wardrobe.
1. Wide-Leg Trousers: Embrace Elegance
Wide-leg trousers are the epitome of comfort and sophistication. They have a relaxed fit from the waist to the hips, and the legs gradually widen towards the hem.
Ideal for formal occasions or a chic everyday look, wide-leg trousers offer a timeless silhouette that elongates your legs and provides freedom of movement.
You can pick different fabric options when it comes to wide-leg trousers. For a relaxed summer vibe, consider materials like linen, cotton, light or medium weight viscose. If you're aiming for a heavy feel - wool and heavy weight jersey are an excellent choice.
Atelier Kajsa's wide-leg trousers present you with a delightful fabric selection. One is fashioned from a gracefully draping medium-weight jersey (WIDE-LEG TROUSERS), while the other boasts the luxurious embrace of a heavier Punto Milano fabric (WIDE JERSEY TROUSERS)

2. Slacks: The Classic Choice
Slacks are a staple in every woman's wardrobe. They are tailored and have a straight leg, offering a polished and professional appearance.
When selecting slacks, focus on the fit around your waist and hips. Ensure they sit comfortably without being too tight or too loose.
Classic colours like black, navy, and grey are versatile choices that pair well with blouses, blazers, or even casual tops for a smart-casual look.
For a relaxed casual look, wear them with a pair of trainers, a t-shirt, or a jumper. 
Atelier Kajsa's slack style brings comfort and casual elegance. These trousers feature a relaxed fit, side slits for added style, pockets, and an elastic waistband for a comfortable and versatile wear (RELAXED FIT TROUSERS).

3. Slim Trousers: Streamlined Chic
Slim trousers are designed to hug your curves while maintaining a narrow leg. They create a sleek and modern silhouette.
These pants are perfect for both work and social outings. They offer a contemporary edge while providing a comfortable fit.

Look for stretchy materials that contain elastane for better mobility, such as cotton blends or jersey, to ensure added comfort during long days.

4. Straight-Leg Trousers: Timeless Versatility
Straight-leg trousers are a classic choice that never goes out of style. They have a uniform width from hip to hem.
Versatile and flattering, these pants suit various body types and can be dressed up or down with ease.
Choose classic colours or experiment with patterns and textures to add some personality to your outfit.
Atelier Kajsa's (STRAIGHT LEG TROUSERS) are crafted from a soft and medium-thickness viscose fabric that offers a gentle stretch. The trousers also feature a comfortably soft and stretchy waistband, ensuring you feel at ease while wearing them. 

5. Tips for Choosing the Perfect Pair
Pay attention to the fit around the waist, hips, and thighs. Ensure you can move comfortably and that the waistband sits at your natural waist.
Consider the occasion – wide-leg trousers for elegance, slacks for business

or everyday life,

slim trousers for a modern look, and straight-leg trousers for timeless versatility.
Explore different fabrics and textures to suit the season and your personal style.
Don't forget about length. Hem your pants to the right length or choose styles that suit your preferred footwear, whether it's heels, flats, or sneakers.
Conclusion: With this guide, you're now equipped with the knowledge to confidently choose the perfect pair of women's pants. Whether you're going for the elegance of wide-leg trousers, the classic appeal of slacks, the modern chic of slim trousers, or the timeless versatility of straight-leg trousers, remember that comfort and fit are paramount. With the right pair of pants, you'll not only look great but also feel fantastic in any setting.